Annie Sloan Chalk Paint - A wonderful, creative paint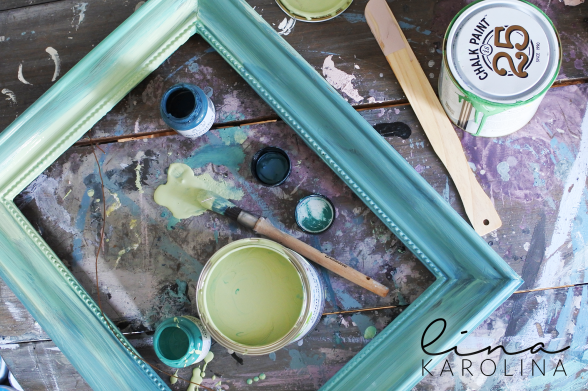 There is, as I mentioned, incredibly many choises when it comes to paints, both different brands and also kinds of paint. I have tryed out far from all of them, but I have worked with many. I know several really good paints, but since I started to work with Annie Sloan's Paint they've become my first choice.

And, as I noticed through my years of furniture flipping, the subject can be pretty loaded, so before I continue with this post I want to clear out that everything I write in this blog is based on my personal experiences and taste. We all both think and likes different things, and this is how I feel, there's nothing wrong to agree with me - and nothing wrong to disagree!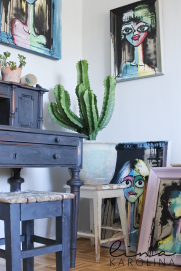 First of all, everything the marketing says about the paint is true;
- The paint dries within an hour, 1,5 maybe depending on how much paint you applied - meaning you can begin with a piece and finish it within a couple of hours!
- It addheres to almost any surface without major prep work!
- The paint contains minimal of VOC and makes it very nice to our beloved Mother Nature.
- It's pretty much odorless which makes it possible to paint with it anywhere - in the bedroom, kitchen, children's room...
- The coverage is incredible - I usually say it takes 1,5 rounds of painting for it to cover perfectly. Sometimes only 1.
- The paint comes in 36 gorgeous colors and they all contain loads of pigments which makes it very easy to mix your own custom colors.
I remember the first difference I noticed when I opened the Chalk Paint can, against other paint brands - the consistency. Annie's Paint is so smooth, creamy and pretty thick. When I stirred I almost wanted to drink the paint as a Milk Shake, haha.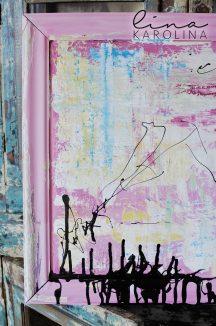 Even an untrained eye can see the true feeling of chalk when you look at a Chalk painted piece. That true matte, soft surface is not possible with any other paint in my oppinion!

While working with these paints it's obvoius they were created by a true artist. I've read somewhere that when Annie got the idea of creating her own paint, she didn't know anything about the process, the only thing she was surtain of is what peculiarities she wanted the paint to have. And then she worked from there.

The joy I get from painting with her Annie Sloan's paint can not be compared with any other and you can really feel the ambitions and thoughts behind the brand already while stirring the creamy mass before dipping your brush for the first time.

Thanks to the creamy and thick texture of this paint, one has endless possibilities of finishes! The thickness allows me to create a textured surface that really looks old and handpanted. I can work the layers in different directions with my brush which will result in surtain 'patterns' in the dried paint. For the pieces I want a 'hard' finish with loads of texture I usually open the paint can and let it dry for a few hours. This will thicken the paint even more.

If I instead would like to ease my work to a really smooth and even finish. Because the paint is water based I can easily mix the paint with some water and thin it out to get a finish without any visible brushstrokes.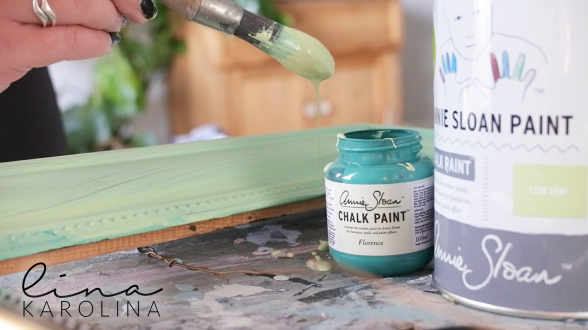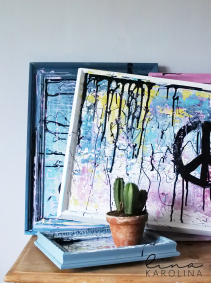 With Annie's paints you can paint about everything. It addheres to almost any surface without major prep works such as sanding and priming which actually is the first reason people don't want to repaint. With most paints it takes to much work before you can move on with the true transformation - the fun part. With these paints you can go straight to work on the end result, the finish! How lovely isn't that?

And, it's not only furniture you can paint - you can also color fabrics (curtains, rugs, linens and even clothes), metals, stone, already painted pieces... the possibilities are truly endless!
Even if it sometimes appear so, it's not magic...
This paint can (and no wonder) be mistaken to be pure magic sometimes. But even so, it's not. Like every paint who needs to be sealed with furniture wax it can be pretty sensetive for wear during time. A thumb rule when working with furniture remake is that the matter the paint is - the more sensitive it becomes. At least if you at the same time don't want to paint with cemicals and toxics. There is no short cut, unfortunately.

For a more durable surface one can choose to seal the paint with a laquer instead. But personally, I like the furniture waxes, the waxes on their own can quick and easy give surtain finishes and they are easy to work with. They also leave that true matteness on the piece which I love so much.